A VIDEO POSTED ON SOCIAL MEDIA showed people possibly breaching COVID guidelines in Danny Healy-Rae's Pub
Kerry Radio reports on a video seen in which Danny Healy-Rae's pub, with a group dancing and at least one topless person, not social distncing and not wearing masks. Danny Healy Rae is an Independent TD in the Dail in Ireland.
Coming up on the show, a video which appears to show lack of compliance with public health advice – no mask wearing, no social distancing, drinking at bar – in Danny Healy-Rae's pub in Kilgarvan. This and more with @jerosullivanRK. pic.twitter.com/N5vOdSqn4e

— Kerry Today (@kerrytodayrk) August 5, 2021
Maura Healy-Rae is Danny's daughter and is a Kerry County Councillor. The video and images seem to have been shared on her account, showing young people singing, socialising and dancing inside the pub in Kilgarvan.
Radio Kerry stated it "was sent a video with the apparent gathering in the Independent TD's pub in Kilgarvan, but it isn't known when it was held … It shows bar counter service and people not wearing masks while moving around, which is prohibited under public health regulations".
An Garda Síochána states that although they cannot comment on social media content, they are aware of images and video published on the internet, which seems to be an indoor gathering in a licensed premises. They also add that there had been no complaint at the time and they had not initiated a formal investigation
Danny-Heal Rae has told Kerry Radio, that he has no recollection of a gathering which appeared to breach Covid-19 restrictions – despite the post showing he was in attendance.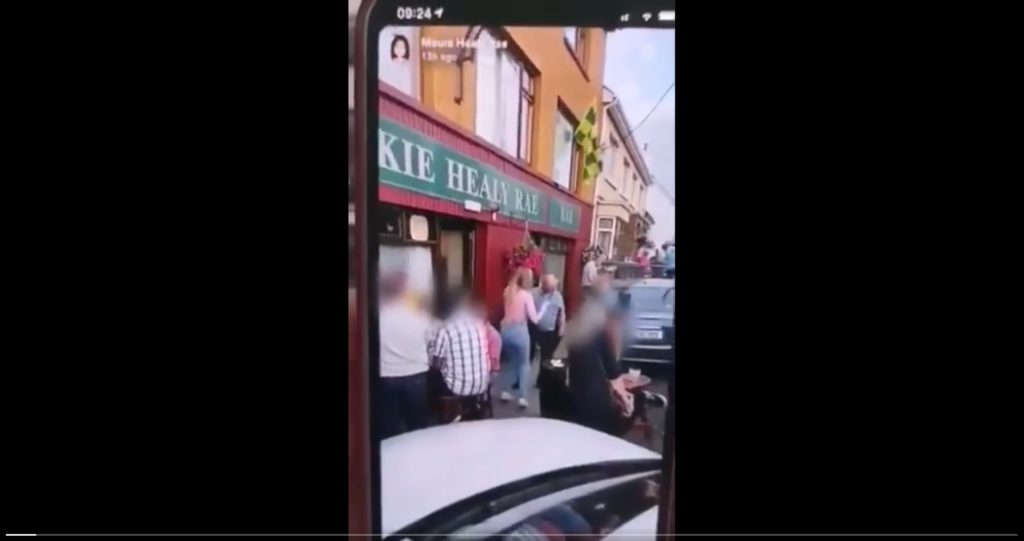 TD Danny Healy-Rae is a son of former TD Jackie Healy Rae and brother of TD Micheál Healy-Rae.
Many of the Healy-Rae families are involved in local politics, on behalf of the Kerry people.
Following dancing on the streets of Killarney by groups of young people taking off their shirts, back last August 2020,
Councillor Jackie Healy-Rae Junior (son of Micheal Healy-Rae, and nephew of Danny) on Facebook called it:
"Totally wreckless, irresponsible and stupid carry on in Killarney last night !!"
"Surely ye can trust the publicans and the people!"
And on June 3rd 2021 – in the Dail, Danny Healy-Rae spoke about the opening of pubs and restaurants having to wait until July
Healy Rae (Danny) asked "what have ye against pubs in rural Ireland, and ordinary punters who want to go for a pint?
Surely ye can trust the publicans and the people!"